Description
With its 500W brushless motor driving two blades up to 3600spm, the SHT 900 AE cordless hedge trimmer makes quick work of keeping hedges, shrubs and trees in perfect shape. Two E-Power 475 batteries, held in the SBH 900 AE battery harness, deliver 180 minutes of uninterrupted cutting time on one charge. The strong, but lightweight, 65cm dual-action blades and wide-spaced teeth effortlessly cut through branches with a diameter up to 3.3cm. For those tricky-to-reach areas, adjust the 180° rotating handle to three different positions. While for fast-acting safety, the power carrier instantly connects and disconnects from the hedge trimmer while you work. The ergonomic soft-touch rubber handle soaks up vibrations and features a keypad for controlling the variable speed and battery life. Plus, its easily disassembled protector enables you to sharpen your blades quickly. The harness and batteries are sold separately. Built today for tomorrow, this model comes with a minimum 2-year Warranty.
---
Technology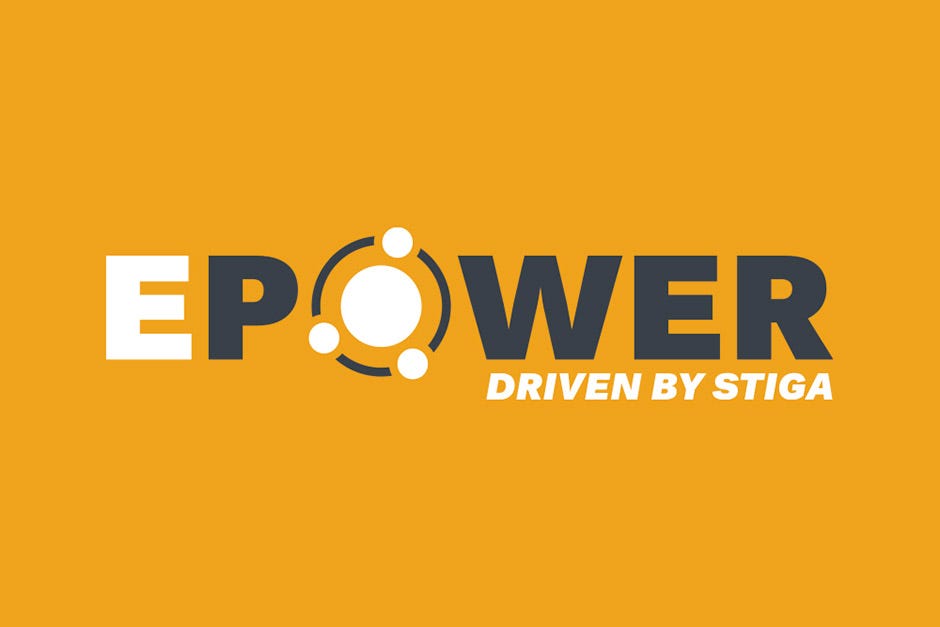 STIGA E-Power
Smart, safety tested and synched with STIGA products, E-Power is the next generation in battery power. Each battery is individually developed to fit its product. It even 'talks' to the tool it powers, saving diagnostics data to maintain peak performance.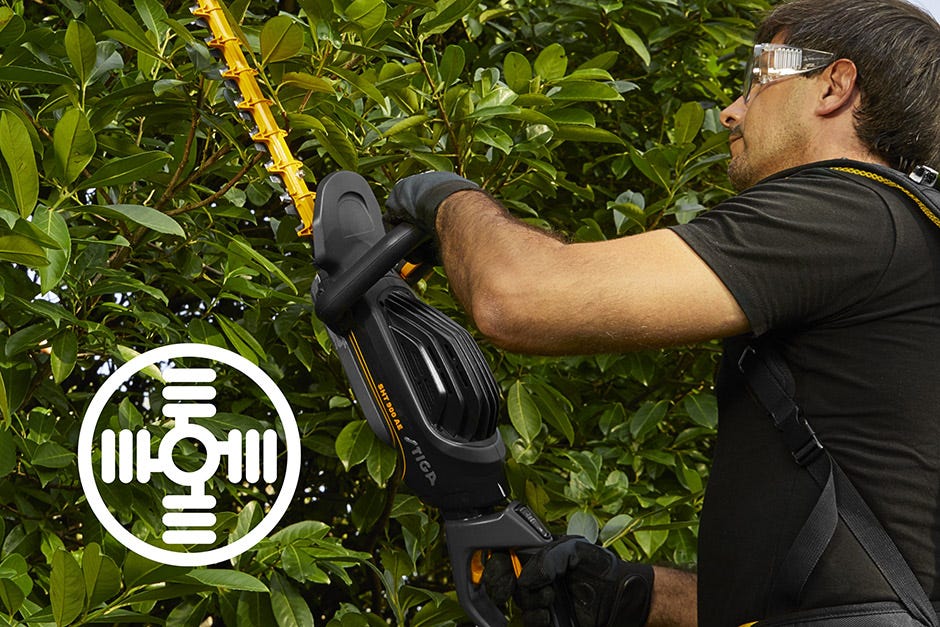 Brushless technology
With STIGA brushless motors, efficiency is up as noise comes down. This technology delivers a more durable engine performance, requiring little maintenance. So while it keeps your STIGA tool running quietly – the power doesn't drop.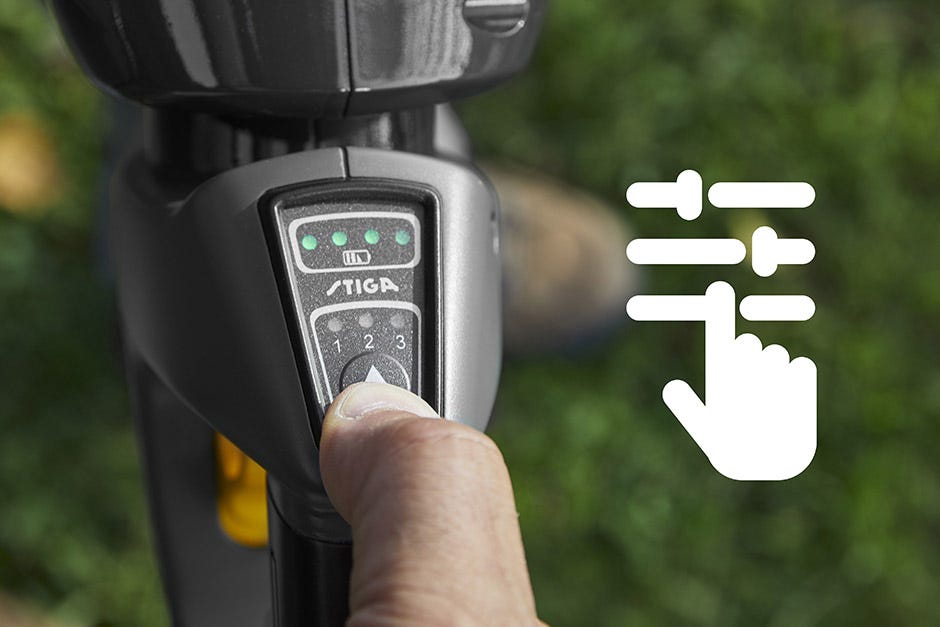 Keypad battery products
The intuitive keypad puts power control at your fingertips. An innovative feature of all STIGA 500, 700 and 900 Series models, it allows you to control your tool's variable speeds and manage battery power output with a simple thumb press.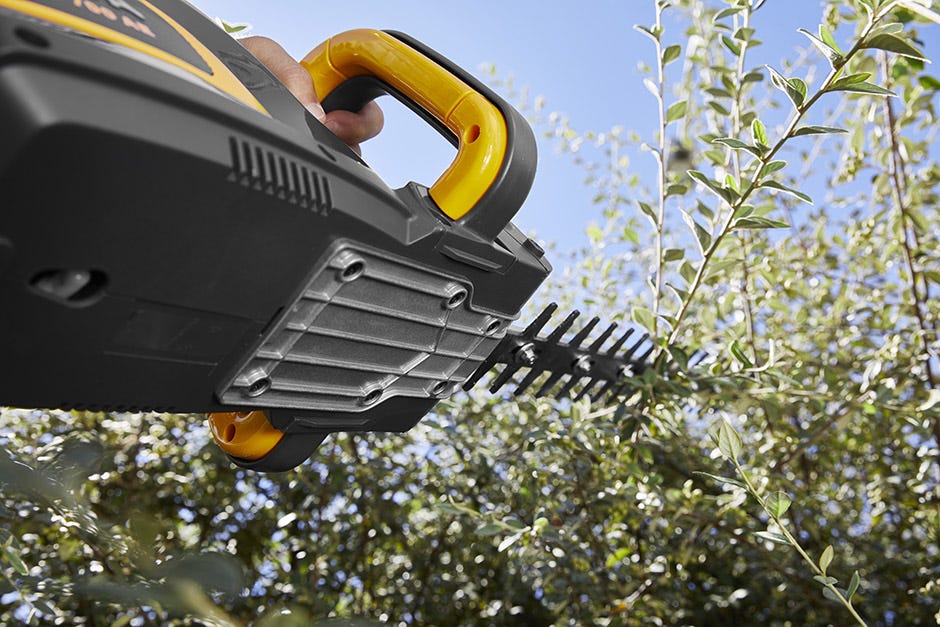 Magnesium gearbox or frame
The STIGA Magnesium Gearbox delivers on every level. It ensures your machine is light to handle and well balanced. It makes any maintenance needed simple. And because it's made from hardwearing, long-lasting magnesium, this protects the mechanical parts from eroding dust and moisture.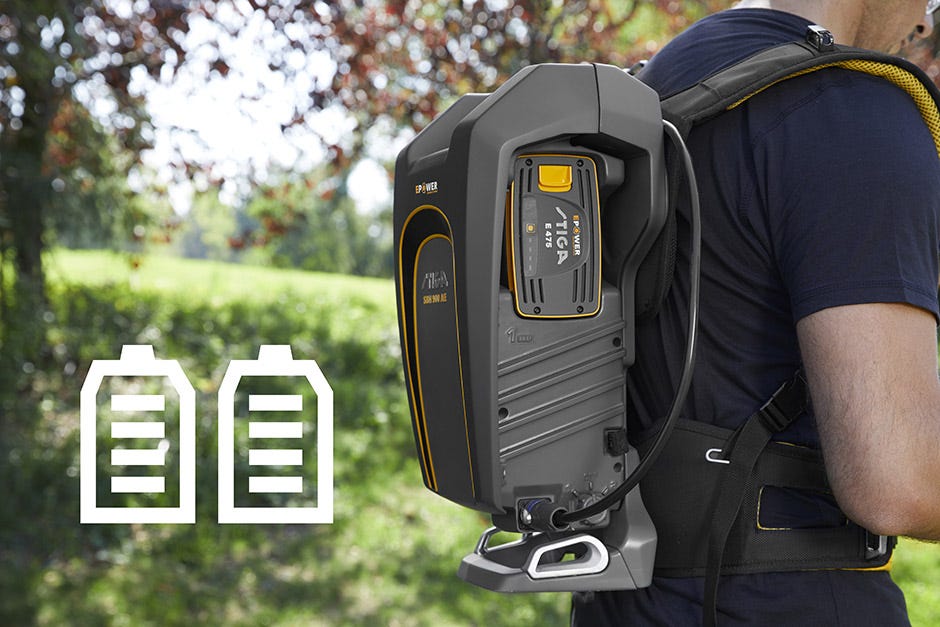 Plug in System / Backpack
The ergonomic SBH 900 AE backpack works with any STIGA battery, including 700 and 500 Series tools. Or plug in two 48V 7.5Ah batteries for max power. It gives you the flexibility and freedom to move around the garden comfortably. And when runtime's low, the SBH 900 AE switches to the other battery.