Description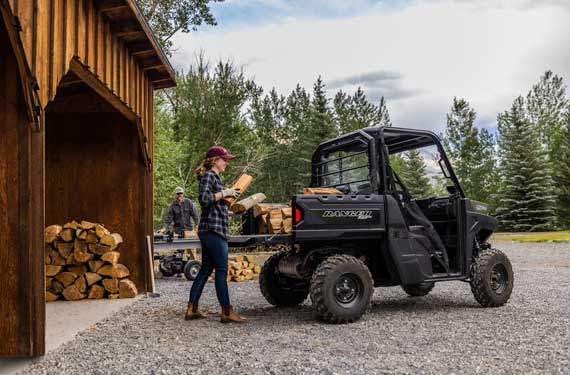 GREAT FOR WORK
The Prostar 570 engine makes it easier to confidently haul heavy loads. The all-new spacious cargo box offers class-leading volume to efficiently transport more tools or supplies and a new single-handle tailgate allows for quick and easy access to dump mulch, logs and other cargo from the box. True On-Demand All-Wheel Drive delivers instant traction in rocky, wet and muddy terrain.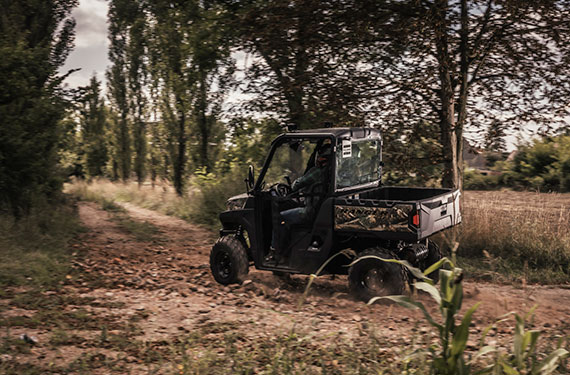 FUN TO RIDE
The new RANGER 570 is easy to handle, nimble around corners, and smooth-riding with best-in-class suspension travel and ground clearance. The spacious interior offers plenty of leg room, ample storage for all your gear.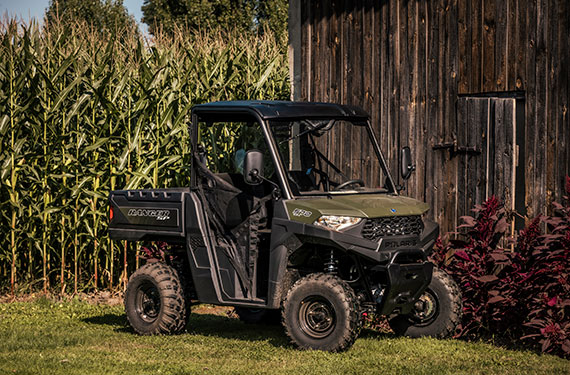 PERFECT FIT
The RANGER 570 is the right size, at the right price with the right features. It's compact 56" (144,5 cm) width makes it easy to ride on tight trails and seamless to transport. Tighter turning radius makes navigating tight corners a breeze. Customize for your work or play needs with a wide selection of accessory options.
GREAT FOR WORK
There's always another job to do around the property. The RANGER SP 570 comes standard with a versatile cargo box and makes it easy for you to load and unload supplies for the job.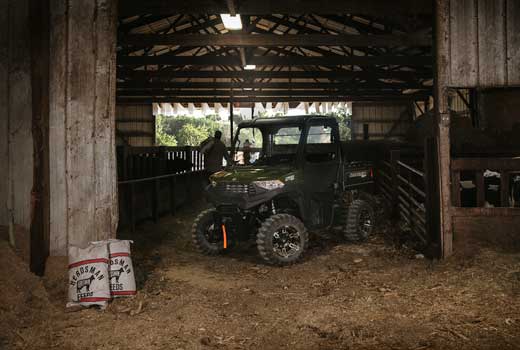 POWERFUL PROSTAR 570 ENGINE
Take advantage of the class-leading ProStar 570 engine that delivers reliable power and performance for tough tasks.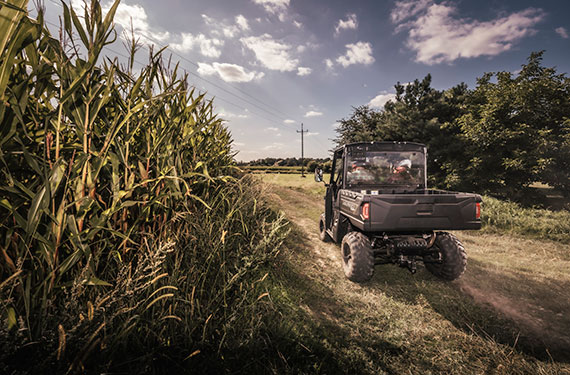 IMPRESSIVE TOWING CAPABILITY
Work harder and get projects done faster in fewer trips with the class-leading 1,500 lb (680 kg) towing capacity.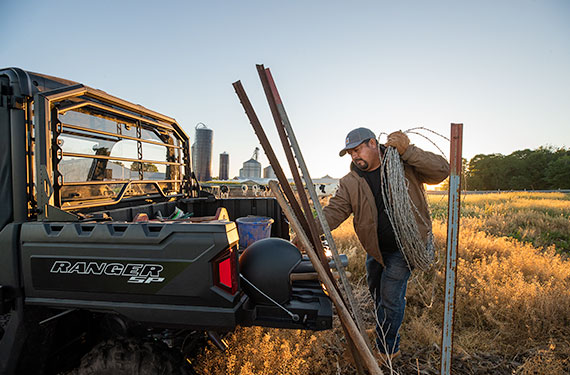 500 LB GAS-ASSIST DUMP BOX
Haul more cargo, take less trips, and unload cargo with ease thanks to the class-leading dump box volume featuring a single lever tailgate and gas assist dump box.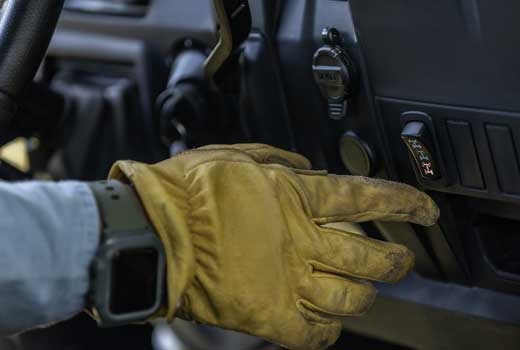 VERSATRAC TURF MODE
For work around the house, engage Turf Mode to unlock the rear differential for easier and tighter turns that are easy on your lawn.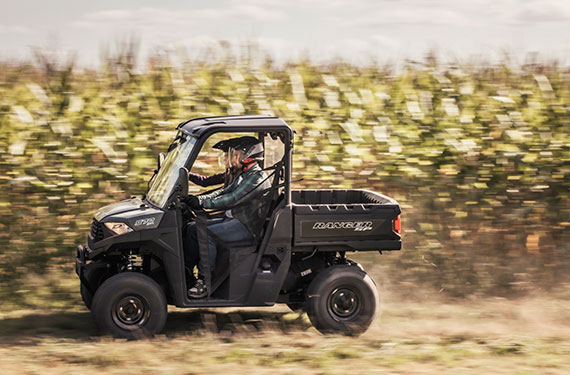 TRUE ON-DEMAND ALL WHEEL DRIVE
Get power to all four wheels when traction loss is detected for instant traction in rough or slippery terrain.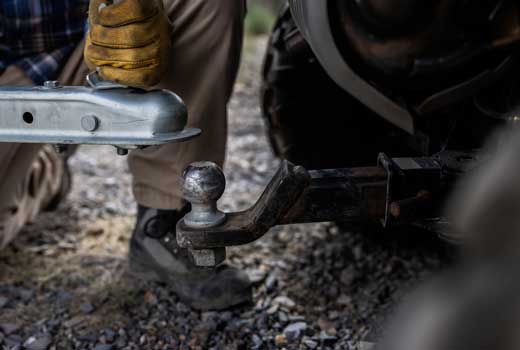 STANDARD 2″ HITCH RECEIVER
Connect your trailer to your RANGER with the standard 2" hitch receiver.
FUN TO RIDE
The new RANGER 570 is easy to handle, smooth-riding, and features true on-demand AWD for instant traction to keep you having fun while riding with the family.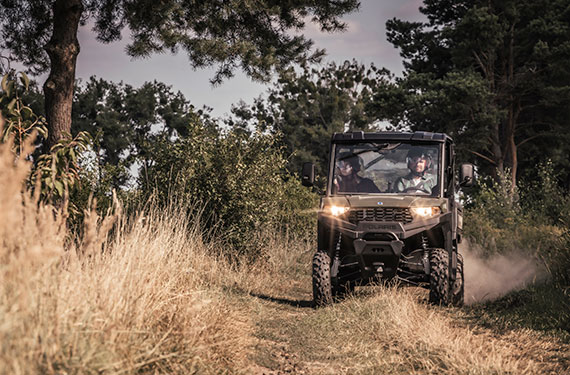 SMOOTH RIDING SUSPENSION
Class-leading 9″ Front / 10″ Rear suspension travel offers a smooth, comfortable ride over the toughest terrain for all-day ride comfort.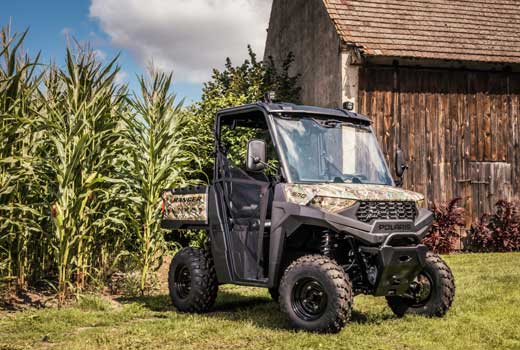 GROUND CLEARANCE
Ride over obstacles and take on tough terrain with class-leading 10″ (25,8 cm) ground clearance and durable, 25″ tires.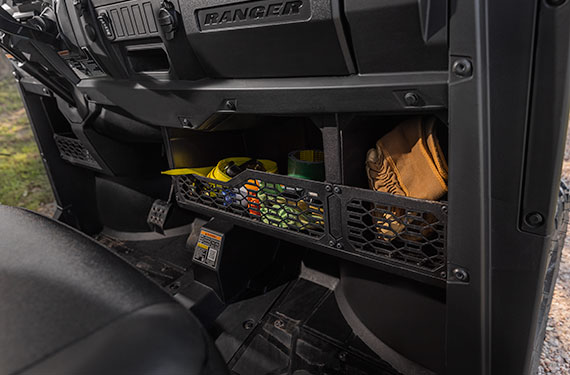 INTEGRATED IN-CAB STORAGE
Store tools, supplies, and riding gear with the class-leading 19.8 gallons (75 L) of in-cab storage, including a cell phone holder for maximum convenience.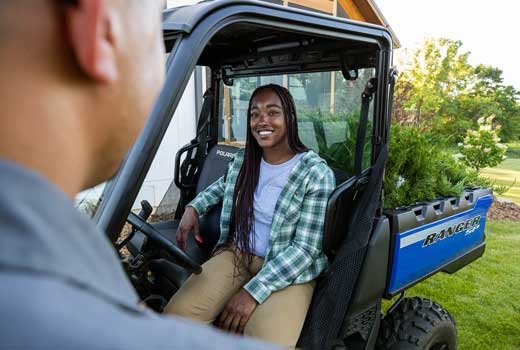 SPACIOUS AND COMFORTABLE INTERIOR
Get all-day ride comfort with 2″ (5 cm) more legroom for easier entry and exit and redesigned seating for maximum in-cab comfort.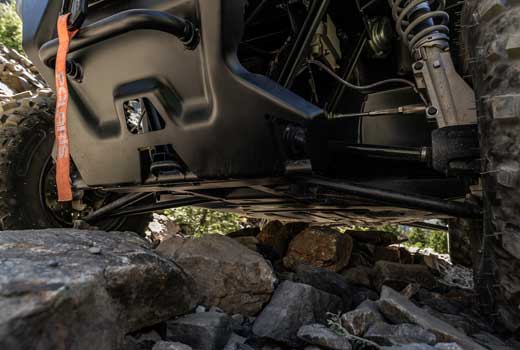 FULL-BODY SKID PLATE AND LARGE FRONT BUMPER
Get added protection to fend off rocks and stumps and protect the machine with a full underbody skid-plate and full-coverage front bumper.
PERFECT FIT
If you're looking for a machine that's just the right size, with the right features, at the right price, nothing beats a RANGER SP 570.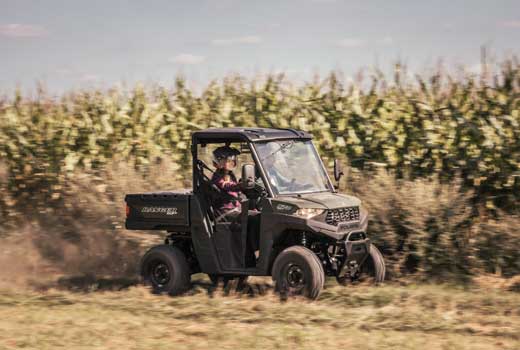 COMPACT 56″ WIDTH
Ride on tighter trails, navigate small spaces, and easily store and transport with the compact 56" (144,5 cm) width.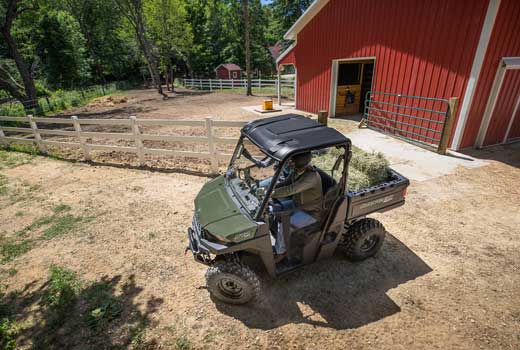 TIGHT TURNING RADIUS
Easily maneuver tight trails and small spaces in the yard with the best-in-class 12.7′ (3.9 m) turning radius.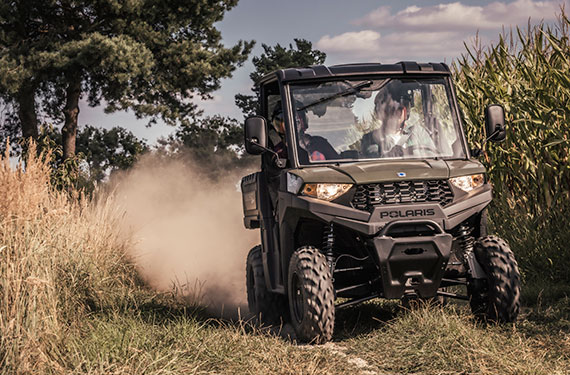 SEALED SUSPENSION BUSHINGS/BEARINGS
Keep mud, dirt, and water out so your machine runs quieter and enjoy hassle-free maintenance with new sealed suspension bushings and bearings.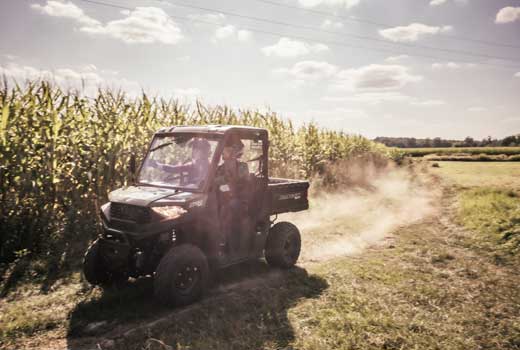 9.5 GALLON FUEL CAPACITY
More fuel capacity so you can spend more time on the trails or working around the property and less time at the pump.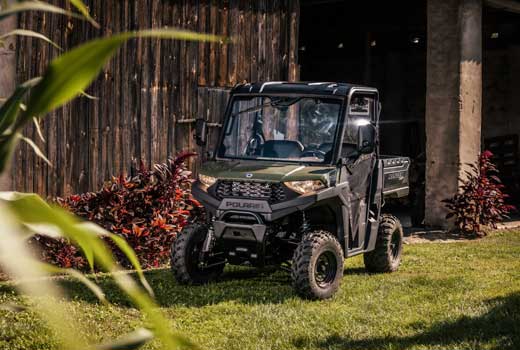 CLUTCH UPGRADES
The clutch system has been upsized and retuned providing strength and improved low speed drivability.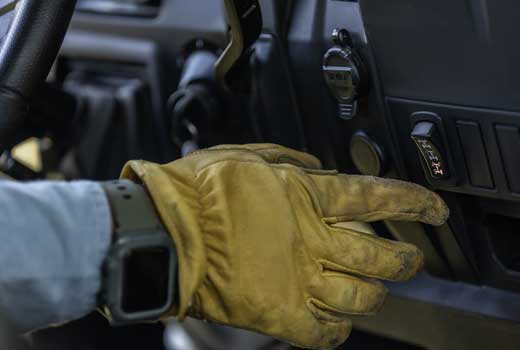 660W STATOR AND UPGRADED BATTERY
An upgraded 575cca battery, 660W stator and Polaris Pulse Electrical system deliver enhanced charging, more confident starting, and the ability to easily run more accessories for added work and play capability.