Description

Fully Enclosed Wet Rear Brake
Kawasaki's unique fully-enclosed wet multi-plate rear braking system keeps the mud out and the stopping power in. It is highly compact and well protected from rocks and tree stumps.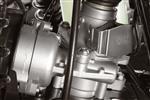 EPS Electronic Power Steering
Kawasaki's high-grade power steering (EPS) offers both enhanced handling and increased ride comfort. Turning the handle causes a signal to be sent to the EPS ECU, initiating assistance. The Electronic Power Steering is not only speed variable, it also acts as a damping system reducing bump steer.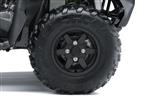 Cast Aluminum Wheels
A first for a Japanese ATV, the BRUTE FORCE 750 4x4i comes standard with six-spokes cast aluminum wheels, enhanching its stylish looks and reducing un-sprung weight.

High Output 750cc V-Twin Engine
The BRUTE FORCE 750's muscular V-Twin, fuel injected engine churns out a hefty 37.3 kW (51PS) @ 6,750 rpm and 58.1Nm @ 4,750 rpm, giving it more than enough grunt to squeeze the most out of the enhanced chassis.

Digital Instrument Cluster
Improved multi-purpose meter assembly includes speedometer, odometer, trip, fuel gauge, temperature gauge, clock and hour meter plus neutral reverse gear, 2WD/4WD, belt life and oil warning indicators.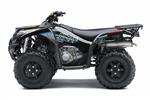 Heavy Duty Towing & Carrying
The BRUTE FORCE 750 4x4i is a true workhorse, offering a massive 120kg combined carrying capacity and, thanks to its
sturdy chassis and low-down grunt, boasts an equally impressive 567kg towing capacity.

Continuously Variable Transmission (CVT)
The compact CVT uses a belt clutch enabling a smaller, lighter design that rivals with a centrifugal clutch. The settings offer
optimised speed transition characteristics, increasing control during low-speed operation.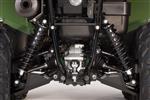 Sturdy Suspension
Double wishbone suspension used front and rear ensures high ground following ability and ride comfort, especially in the low and medium speed ranges. Suspension settings contribute to a planted feeling in corners. Designed to handle rough and uneven ground.